If inspiration for everything I write comes from a source, this book is about the source.
"Stephen's delightful memoir makes you want to travel upstream to your own formative D&D headwaters, dig out your old graph-paper maps and worn dice, and rediscover the gateway to what the author calls 'the fantastic path.'"
—Ethan Gilsdorf, author of Fantasy Freaks and Gaming Geeks: An Epic Quest for Reality Among Role Players, Online Gamers, and Other Dwellers of Imaginary Realms
"A vibrant recollection of what it's like to encounter Dungeons & Dragons for the very first time."
—Dan "Delta" Collins, author of Book of War and co-host of Wandering DMs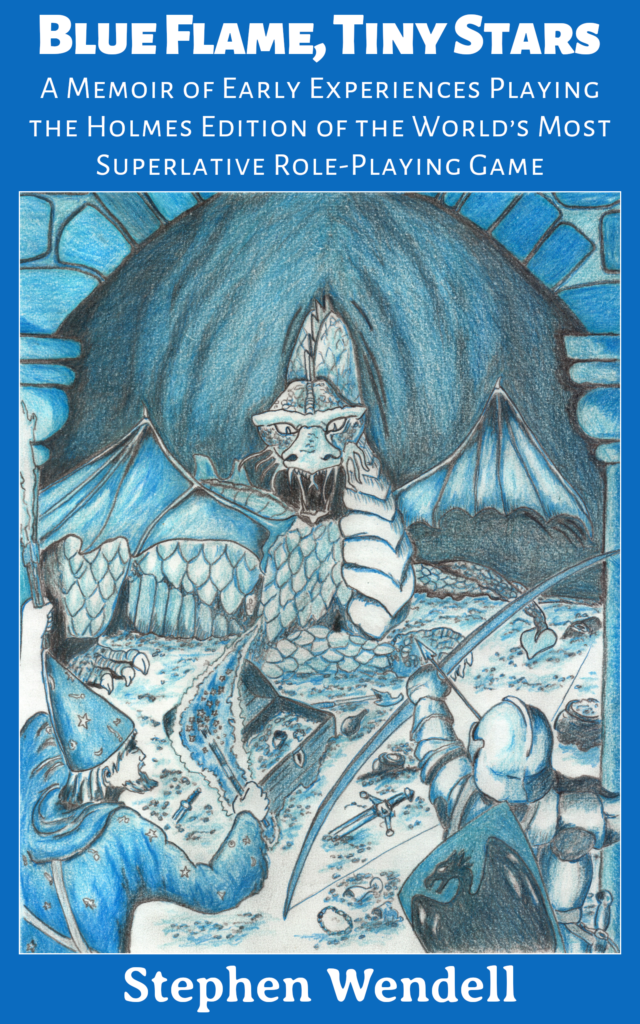 Warning: Reading this book will make you want to play D&D!

Thirteen-year-old Stephen is growing up in a mundane world until, during one fateful week in 1982, he discovers a new kind of game. It's called Dungeons & Dragons, it's a role-playing game, and under his best friend's tutelage, he learns to play it. Now, he enters a world of medieval fantasy, where knights in shining armor perform heroic deeds, where monsters lurk in the shadows, and wizards wield powerful magic, where fabulous treasures lie hidden behind cunning traps, and deadly pitfalls await the unwary. In this game anything is possible, and by week's end, Stephen knows it will change his life forever.
Praise for Blue Flame, Tiny Stars
"I recommend this book not just to fans of 'Holmes Basic' but to anyone who enjoys playing Dungeons & Dragons. The author's clear prose captures the excitement of those early, half-remembered adventures when everything about the game was new and awe-inspiring."
—Zach Howard, author of The Ruined Tower of Zenopus and archivist at Zenopus Archives
"From his first glimpse of those strange dice, Stephen paints a picture of a young gamer's friendships and adventures as he finds his way into a new world. The book is both a wonderful narrative and a personal history."
—Tony Dowler, author of How to Host a Dungeon: The Solo Game of Dungeon Creation
"Stephen's essays take me right back to those heady days. You will recognise many of the moments in this book, from figuring out weird dice, employing outside-the-box tactics, inventing new spells and monsters and magic items, drawing sprawling maps—but, most of all, you'll remember the freshness of a completely new kind of play."
—Michael Thomas, author of BLUEHOLME
"A celebration of dice, maps, friendship, and, above all, imagination—the very stuff from which the hobby of role-playing is made."
—James Maliszewski, author of Grognardia: Musings and Memories from a Lifetime of Roleplaying

---